Kenneth Hite is at it again with another inspired Lovecraft publication with his latest Kickstarter Tour de Lovecraft: The Destinations. A followup to his decade old book Tour de Lovecraft: The Tales.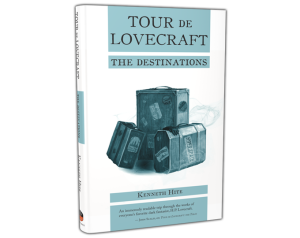 Kenneth Hite guided readers through Lovecraft's plots and themes in his earlier book Tour de Lovecraft: The Tales. Now, expanding on his "Lost in Lovecraft" essay series in Weird Talesmagazine, he takes you on a sight-seeing tour of Lovecraft's settings: from Arkham to Antarctica, and from New York City to Hyperspace. For Lovecraft the setting was everything, and his legendary locations still hold meanings and secrets for today's readers. Tour de Lovecraft: The Destinations drives the hidden routes connecting seemingly unrelated tales. It follows the tracks of Lovecraft's predecessors and models, stops to get its bearings in the real world, then plunges back into mystery, deciphering and explaining the symbols and signs on the Master's map.
The project is already fully funded and is now working on getting stretch goals out to backers, so there is no reason not to jump on have a chance to learn about all of Howard Phillip's strange locations from his stories.