Hosted by Adam Scott Glancy, Shane Ivey, and Ross Payton. Produced by Ross Payton.
This episode's guest is Oscar Rios, profilic Call of Cthulhu author and publisher of Golden Goblin Press.
Subscribe to the Unspeakable! podcast feed at http://theunspeakableoath.com/home/?feed=podcast
SPONSORS—THANK YOU!
0:04:05 NEWS AND ANNOUNCEMENTS
Shane: TUO 25 still in the works. Delta Green: Extraordinary Renditions being reviewed by the Delta Green team. Delta Green: The Roleplaying Game being reviewed by Ray Winninger ("What kind of God would let a world like this exist?") and prepped by writers. See "VISCID," which we played and FUUUUCKED UP at GenCon last year, at Dennis Detwiller's Patreon page. No Soul Left Behind in layout. Puppetland in illustration and writing—see Samuel Araya's sculptures from Puppetland on Facebook. Ninth Legion in development: an Imperial Roman colony lost in Faerie. Wrestlenomicon and Underground percolating.
Scott: Housecleaning! The last original Paganista has moved out of Pagan House now that John H. Crowe III has bought his own place. Gurkhas meet Cossacks meet Kashmiri sepoys meet Tcho-Tchos in "Trespassers" for Swords v. Cthulhu. Illustrator David Lee Ingersoll joins Horrors of War. Writing and editing for Delta Green. Not taking on new projects.
Ross: Back RPPR at Patreon. New RPPR contest: commemorate events from RPPR Actual Play shows. Special category: best player-character death. Sponsored by Arc Dream Publishing. See the RPPR forums for details.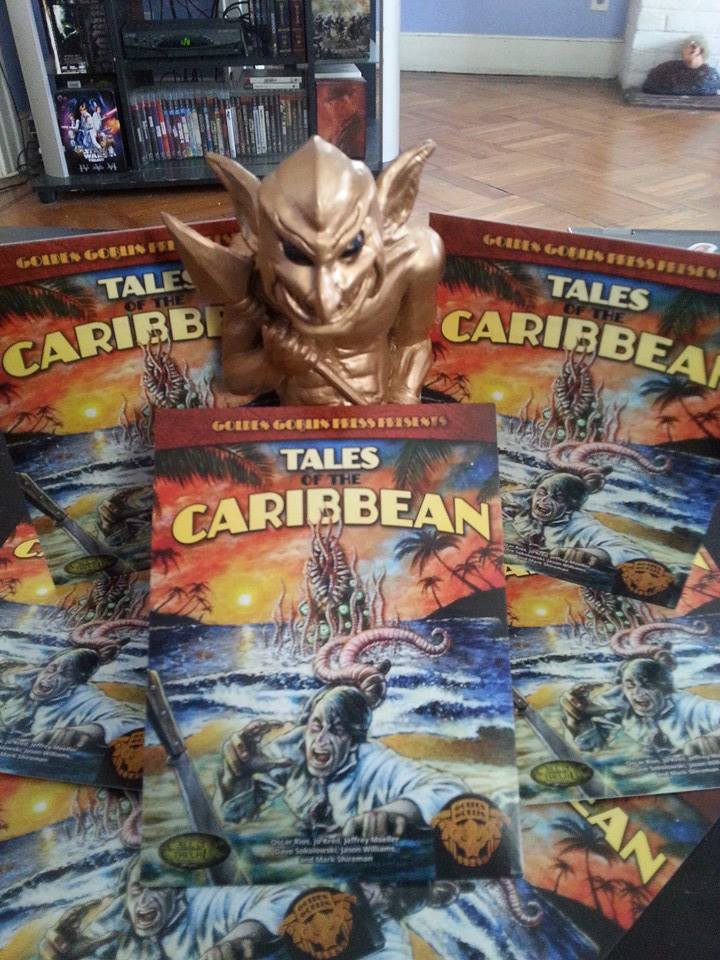 0:24:40 INSIDE OSCAR RIOS
Not literally.
Golden Goblin Press: website, Facebook, Kickstarter.
From con games to scenario design: "Ripples from Carcosa" and good words from Richard Watts. Miskatonic River Press.
Golden Goblin's goals: updated Old School. New approaches to classic ideas.
We love our audience so deeply!
Suprising players while revisiting great stories.
Keeping to the schedule!
Tales of the Carribean: No hurricanes, pirates, Deep Ones, Atlantis, sea ghouls, or Bermuda Triangle.
Sandbox scenario design with ideas from LARPs: goals and actions for all characters, not just PCs.
Scenarios you can't solve.
01:20:05 KEEPING THE MYTHOS UNPREDICTABLE
Challenge: drawing from a limited body of work.
An old threat in disguise—or make something up from scratch.
Changing details on an old threat is easier. Do that enough and it looks new. See Trail of Cthulhu and especially Ken Writes About Stuff.
Use a monster's spells to change its actions.
Put yourself into the creature's head space and how it came to behave this way.
Going Clear and weirdness from real-world cults and cultists, featuring a dinner with Mike Daisey. (See Delta Green on Facebook, btw.)
The power of inexplicability. (But let the GM in on things.)
New settings and kinds of player characters.
New motivations for the player characters.
Remember the monsters don't know humans so well.
Misdirection! Make them forget they're playing a Mythos game.
Fun ideas from Cody Goodfellow stories.
Use creatures and spells that haven't been seen enough.
2:35:43 NYARLATHOTEP! 
This episode's music is "Nyarlathotep" by the Darkest of the Hillside Thickets, courtesy Divine Industries. Copyright 2015. Visit www.thickets.net.
And tell us in the comments what you think of this episode and what you want to hear next.
Podcast: Play in new window | Download