Hosted by Adam Scott Glancy, Shane Ivey, and Ross Payton. Produced by Ross Payton.
This episode's guest is Bret Kramer, co-author of the Masks of Nyarlathotep Companion (at Kickstarter until March 9, 2015) and editor of the Arkham Gazette.
Subscribe to the Unspeakable! podcast feed at http://theunspeakableoath.com/home/?feed=podcast
0:00:57 SPONSORS—THANK YOU!
0:07:45 NEWS AND ANNOUNCEMENTS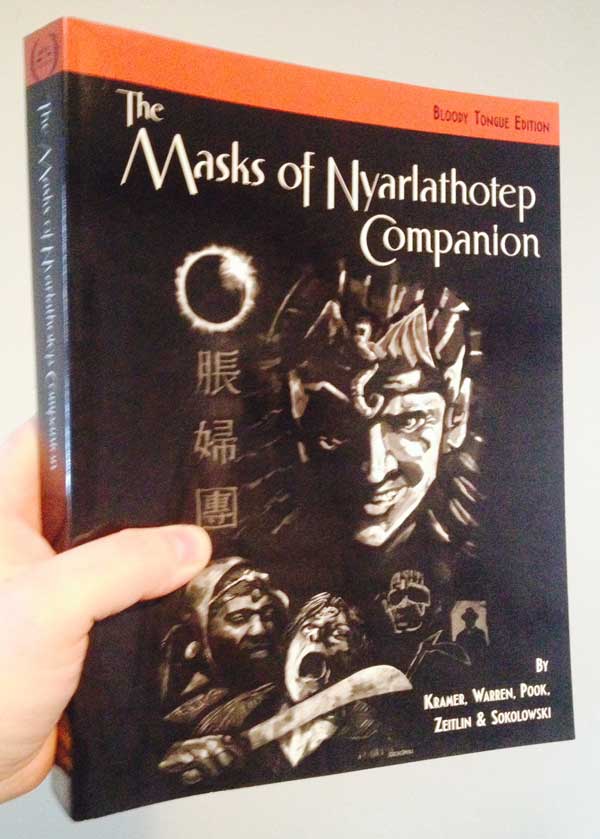 0:53:25 THE MASKS OF NYARLATHOTEP COMPANION AND PLAYING MASKS
SPOILER ALERT! We give away everything about Masks of Nyarlathotep here, so this is your chance to quit listening if you plan to play in it.
Why we love Masks so much. Its influence on RPG adventure design, especially Call of Cthulhu adventures: character, plot, structure.
Some challenges in running Masks that show its age. Its legendary lethality. Clue choke-points. The need for player-characters to learn Rockford Files investigative skills and deep paranoia.
Tools and references in the Companion. Shanghai background. Jackson Elias background. Useful details and context for exotic locales.
Innovative ways to convey too-rare clues.
Scattered talk of Kenya, Cairo, making tomes more interesting, and more. The infinite Mythos tome.
Lethality vs. suspense. Patrons and campaign frameworks.
Use the Companion sparingly!
2:26:11 NYARLATHOTEP! 
This episode's music is "Nyarlathotep" by the Darkest of the Hillside Thickets, courtesy Divine Industries. Copyright 2012. Visit www.thickets.net.
And tell us in the comments what you think of this episode and what you want to hear next.
Podcast: Play in new window | Download