Posted by Shane Ivey, editor-in-chief
The 2013 subscription drive ended with 318 subscribers! Thank you so much, everyone who subscribed in 2013.
As a reward, we're giving two awesome bonuses: "Down in the Delta," a Delta Green story by Adam Scott Glancy, and In the Court of the Yellow King, a play by John Scott Tynes.
Adam Scott Glancy's "Down in the Delta" will go to all subscribers to TUO 22-25 and to individual buyers of TUO 22. This Delta Green story is told through the email reports of an agent uncovering conspiracy and horror in New Orleans. It's a companion piece to Glancy's "DeMonte Clan" chapter in our award-winning Call of Cthulhu sourcebook Delta Green: Targets of Opportunity.
John Scott Tynes' In the Court of the Yellow King will go to all subscribers to TUO 22-25 and to individual buyers of TUO 23. Tynes wrote this Robert Chambers-inspired play in college when he was running a King in Yellow campaign for Call of Cthulhu and writing the Carcosa articles that would anchor The Unspeakable Oath's debut issue. Read more about In the Court of the Yellow King here.
Special thanks to Yog-Sothoth.com, The Arkham Gazette, and Arkham Antiquities for encouraging their readers to subscribe to The Unspeakable Oath in the 2013 subscription drive. We're happy to offer Yog-Sothoth.com a free ad on the back covers of TUO 24 and 25. The Arkham Gazette and Arkham Antiquities will each get a half-page ad in TUO 24 and 25.
THANK YOU to all the subscribers who showed their support for The Unspeakable Oath in 2013! 
Subscribers as of December 31, 2013:
318
Click here to subscribe in print with a free PDF of each issue

Click here to subscribe to just the PDF downloads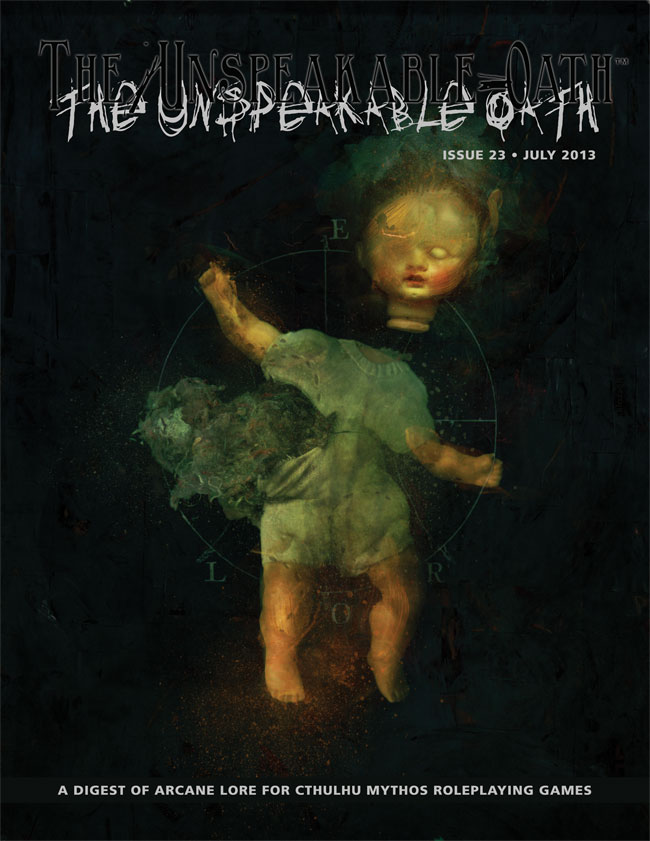 "The Oath is back and better than ever. The quarterly is packed with information to spice up your existing Cthulhu game or can be the source of great campaign ideas to start a new adventure in Lovecraftian horror. The contributors' love of the Mythos shows on every content-loaded page." Keith (.T.A.), RPGNow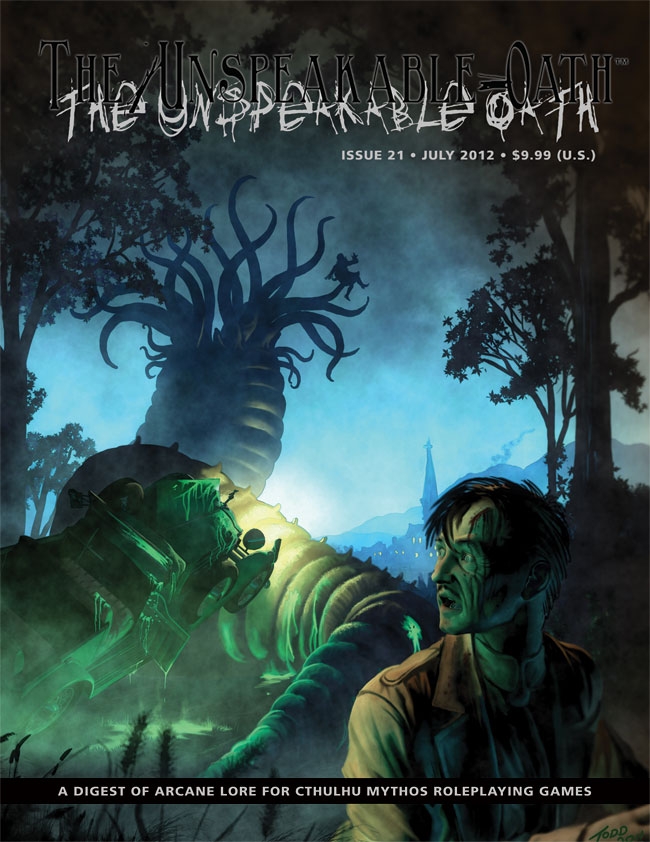 The Extra Rewards
We had two other items in the wings if we hit very high subscriber numbers in 2013: a rerelease of the Delta Green scenario "Jack Frost" by myself, and the system-agnostic scenario "The Ixiptla" by Jason Morningstar. I expect we'll see those later — "Jack Frost" probably after the new Delta Green RPG comes out and "The Ixiptla" perhaps in a future issue of the Oath, if it's still available. Many thanks to Jason for offering to include it in the subscription drive.
"Anyone remotely interested in Call of Cthulhu should be buying copies of TUO." (kafka, RPG.net)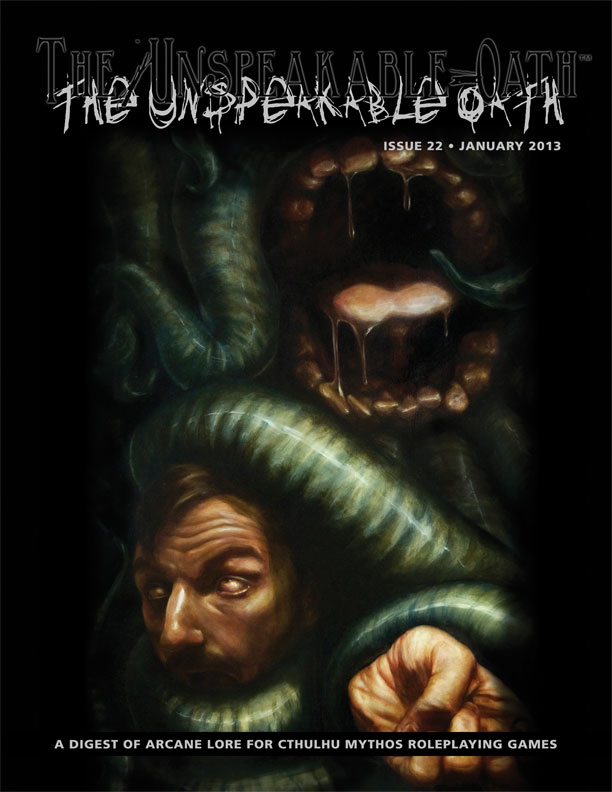 Your Money's Worth
Subscribing to the Oath means big savings over ordering individual issues by mail ($9.99 plus shipping and handling).
| | | | | |
| --- | --- | --- | --- | --- |
| Destination | Subscription Price | Shipping & Handling | Total | Total per Issue |
| U.S. | $32 | $4 for four issues | $36 | $9 including the PDF |
| Outside U.S. | $32 | $20 for four issues | $52 | $13 including the PDF |
A NOTE FOR PRIOR CUSTOMERS: If you already bought TUO 22 in print or in PDF and you also buy a subscription, include a comment in the order asking us to begin your four-issue subscription with TUO 23 and end it with TUO 26.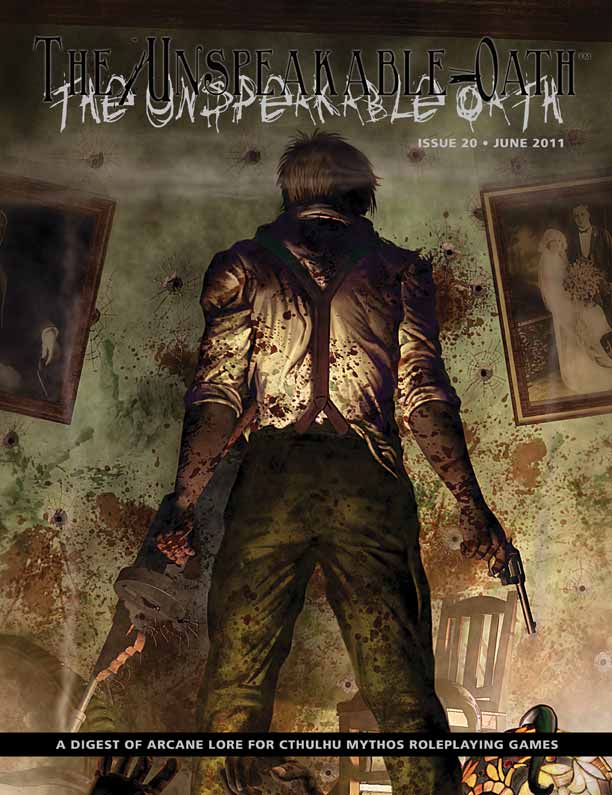 "If you're at all a fan of Call of Cthulhu and the many aspects of the RPG industry that have spun off because of Chaosium's thirty-one year old system, definitely snag a copy of The Unspeakable Oath, Issue #21, either in print or in pdf format. You won't be sorry for a second." (Alexander L., RPGNow)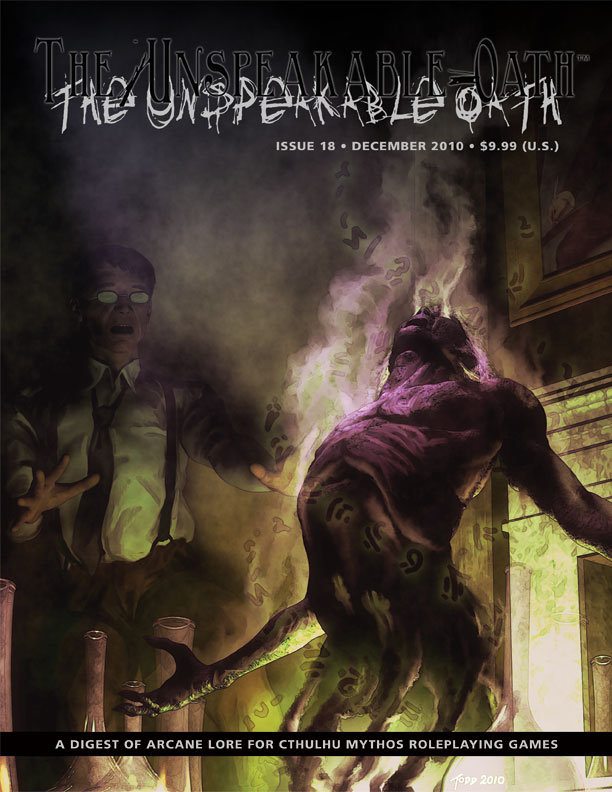 Let the Terror Begin