The Unspeakable Oath is a quarterly magazine dedicated to tabletop roleplaying games that are based on the Cthulhu Mythos — the creations of horror author H.P. Lovecraft, the writers who inspired him, and the writers who followed him.
Created and published by game designers, writers and artists who love Cthulhu Mythos gaming, every issue provides ideas, inspiration, tools and techniques to make your games more horrific than ever.
The Unspeakable Oath began as the flagship publication of Pagan Publishing. It was founded by John Scott Tynes, who served as its editor-in-chief from 1990 to 2001. Today, The Unspeakable Oath is published by Arc Dream Publishing under license from Pagan Publishing, and guided by an editorial board including the magazine's original creators. Arc Dream Publishing's Dennis Detwiller and Shane Ivey serve as art director and editor-in-chief, respectively.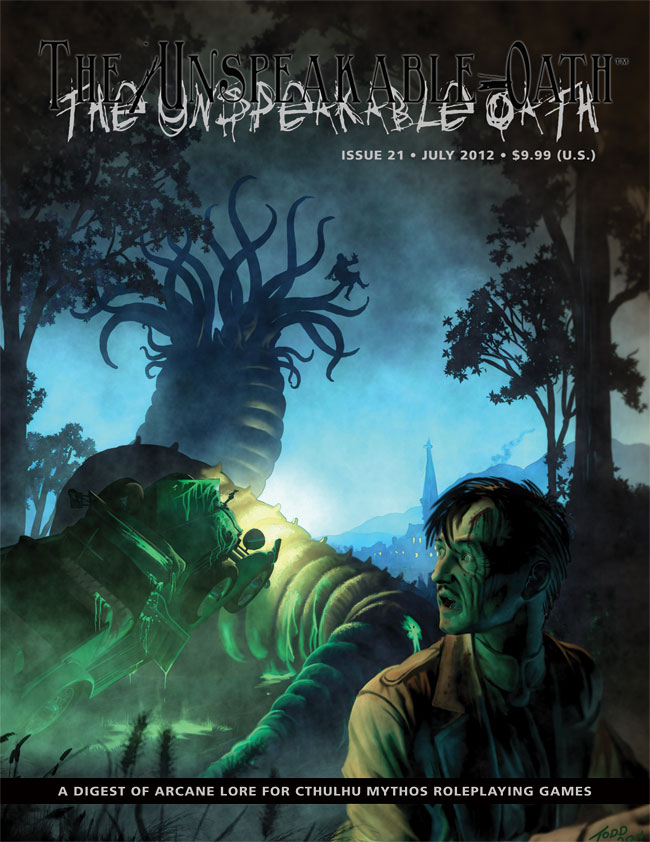 with strange aeons, even death may die
The December 2010 relaunch of the Oath commemorated the 20th anniversary of the Oath's very first issue back in the waning days of 1990. A new issue comes out every three months. More or less.
Want to contribute? If you have something great, we want to publish it. See our submissions page for guidelines.
format and delivery
The Unspeakable Oath is published four times per year in a limited print edition and in electronic editions. Each issue is at least 64 pages, 8.5″ x 11″, perfect bound, with a color cover and black-and-white interior art. Each issue will also be available for download in PDF, and (eventually) in ebook formats for iPad, iPod Touch, iPhone, and Kindle.
past issues and collectibles
The Unspeakable Oath first ran for 11 years, from 1990 to 2001. The last issue of its original run, double issue 16/17, is still available at Arkham Bazaar. (All other prior issues sold out long ago, but can be found online from time to time as collectors sell them on eBay and Amazon.com.)
And did you know that you can wear the horror of the Oath wherever you go?
ceaseless, half-mental callings
Follow the Unspeakable Oath page on Facebook and editor Shane Ivey's Twitter feed for updates.
editorial board
The Unspeakable Oath is guided by an advisory board of writers and editors who are diehard fans of Cthulhu Mythos gaming.
Brian Appleton: Assistant editor of The Unspeakable Oath from its earliest days. Appleton recently edited and co-authored (with John H. Crowe III) Pagan Publishing's Call of Cthulhu sourcebook Mysteries of Mesoamerica.
Monte Cook: Head of Malhavoc Press and co-author (along with many members of this board) of the acclaimed Wizards of the Coast edition of Call of Cthulhu — not to mention Third Edition Dungeons and Dragons, the massive D&D game setting Ptolus, Numenara, and a hoard of other popular roleplaying game books. Keep up with him at Monte's Journal.
Adam Crossingham: Founder of Sixtystone Press, and editor of the excellent Cthulhu gaming magazines Worlds of Cthulhu (it will be missed) and The Black Seal (soon returning with a vengeance). He contributed to the Cthulhu Live game line, The Whisperer fanzine, and most recently Chaosium's Strange Aeons II. But that all came after his first appearance in the letters column of The Unspeakable Oath #6.
Dennis Detwiller, art director: Art director of the Oath during its first run and art director for theOath today, Detwiller is Shane Ivey's partner at Arc Dream Publishing, and co-author (with John Scott Tynes and Scott Glancy) of Delta Green, one of the most highly-regarded sourcebooks ever produced for Call of Cthulhu. By day he designs videogames for Hothead Games. He keeps a blog at detwillerdesign.com.
Adam Scott Glancy: President of Pagan Publishing, a longtime assistant editor of The Unspeakable Oath, and co-creator (with Dennis Detwiller and John Scott Tynes) of the modern-day Call of Cthulhu setting Delta Green.
Daniel Harms: Author of the Cthulhu Mythos Encyclopedia and frequent contributor of Cthulhu Mythos gaming excellence in the Oath and many other publications. His blog is Papers Falling From an Attic Window.
Kenneth Hite: Author of Trail of Cthulhu, the horror roleplaying game from Pelgrane Press; the "Lost in Lovecraft" column in Weird Tales; Tour de Lovecraft: The Tales and Cthulhu 101 from Atomic Overmind Press; and the long-running Suppressed Transmissions column of conspiracy gaming. Co-author (with Greg Stolze) of "The Cult of Transcendence" in Delta Green: Targets of Opportunity, and (with Greg Stolze, Dennis Detwiller, and Shane Ivey) of the superhero roleplaying game Wild Talents. His blog resides at LiveJournal.
Shane Ivey, editor-in-chief: President and managing editor of Arc Dream Publishing (publisher ofGodlike, Wild Talents, and Monsters and Other Childish Things), an assistant editor of The Black Seal, and editor of Pagan Publishing's two most recent two Delta Green sourcebooks for Call of Cthulhu. Before gaming consumed his career he was a magazine editor for the University of Alabama at Birmingham and a copy editor at The Birmingham News.
Greg Stolze: Author of the fantasy roleplaying game REIGN: A Game of Lords and Leaders; co-author (with John Scott Tynes) of the underground occult roleplaying game Unknown Armies; co-author (with Kenneth Hite) of "The Cult of Transcendence" in Delta Green: Targets of Opportunity;co-author (with Dennis Detwiller) of Godlike, the World War II superhero roleplaying game; and co-author (with Dennis Detwiller, Kenneth Hite and Shane Ivey) of the superhero roleplaying gameWild Talents; author of the Wild Talents setting books Progenitor, eCollapse, and Better Angels.
John Scott Tynes, founding editor: Founder of The Unspeakable Oath and Pagan Publishing, editor-in-chief of the Oath in its first run from 1990 to 2001, and co-creator (with Scott Glancy and Dennis Detwiller) of the award-winning Call of Cthulhu setting Delta Green. By day a lead designer at Microsoft Game Studios, Tynes remains a guiding voice in the Oath. A better list of his credits is at his website, Revland.
Ray Winninger: Designer of the Underground RPG, codesigner of DC Heroes and Torg for Mayfair Games, contributing editor for Dragon Magazine for many years—he wrote the popular "Dungeoncraft" column—and designer of countless stories, adventures and supplements for TSR, Wizards of the Coast, FASA, White Wolf, Mayfair, West End Games, Pagan Publishing and various other publishers. By day Winninger is an executive producer at Microsoft.