With convention season starting up and lots of new Handlers coming in to the fold, Arc Dream Publishing thought it would be a great idea to round up the links to all of the free documents and scenarios in one place in order to help everyone make the most out of their Delta Green games.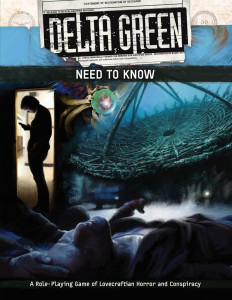 Need to Know: The quickstart rules, plus some pre-generated characters, AND a starter adventure. Everyone should start here.
Briefing Documents: This five-page reference document summarizes the core rules of Delta Green: The Role-Playing Game. Great for new Agents
Professions Cheatsheet: A short, categorized index of Agent's Handbook occupations.
Alphonse's Axioms for Agents: A directive from A-Cell, secrets in Delta Green tradecraft.
960 Pre-Generated Characters: For when you need fresh meat on the fly…
Future/Perfect Part 1: Someone or something is killing the residents of Hellbend, California. No one knows who or what it is. A scenario that's ideal for introducing new characters and new players to Delta Green.
Printer-Friendly Character Sheet
Don't foget that plenty of free fiction and other (not as free) resources can be found here.