The developers of Delta Green: The Role-Playing Game discuss the game at Gen Con 2016 in the seminar "Delta Green: Need to Know." Dennis Detwiller, Adam Scott Glancy, Kenneth Hite, Shane Ivey, and Greg Stolze answer questions about the state of the game line and tips for game-play. Thanks to our friends at Role Playing Public Radio for recording this event. Audio recording provided by the Roleplaying Exchange podcast.
Delta Green: Agent's Handbook and Delta Green: Need to Know (with the Handler's Screen) are available now. The Agent's Handbook won the 2016 Silver Ennie Award for Best Supplement and the Need to Know quickstart rules won gold for Best Free Game.
00:00:00 INTRODUCTION. Hosted by Shane Ivey with Dennis Detwiller, Adam Scott Glancy, Kenneth Hite, and Greg Stolze. Cruelly laughing at characters' misfortunes, or the catharsis of tragedy. Agent's Handbook and Need to Know are shipping now. In the pipe: The Fall of Delta Green; Control Group, an introductory scenario collection; Impossible Landscapes, a campaign about the King in Yellow; Delta Green: The Role-Playing Game, formerly known as the Case Officer's Handbook, in PDF probably late 2016; PISCES; Deep State; PDF adventures — "Kali Ghati," "The Star Chamber," and "Lover in the Ice" available now; "VISCID," "Observer Effect," "Wormwood Arena," "Iconoclasts," and "Redacted Files" in the works.
00:16:00 THE FALL OF DELTA GREEN AND THE MYTHOS IN DELTA GREEN. Night's Black Agents as the happy-go-lucky option. Options for tracking the increasing difficulties of the Sixties and for alternate modes of play. New interpretations of Cthulhu Mythos threats. Giants of K'n-Yan.
00:32:00 DELTA GREEN: THE ROLE-PLAYING GAME. Why we renamed the book. It's current to 2016. Lessons learned from the Kickstarter. Being shaky about delivery dates. Being conservative with funding goals. No tchotchkes. Oh yeah, we won Ennie Awards this year! Silver for Supplement and Gold for Free Product. Magic and psychic powers in DG.
00:47:00 THE UNNATURAL IN THE MODERN WORLD. The Faking Hoaxer. Lovecraft wrote contemporary technothriller fiction. Embracing communications and exposure as a source of horror and suspense. Human science is not a threat to alien intelligences. Fairness in scenarios. The limits of understanding.
00:59:25 UPDATING THE DELTA GREEN ORGANIZATION. Different pressures for different play styles.
01:07:34 IS THE SUPERNATURAL STILL FRIGHTENING? Building a horrifying scenario around great or relatively small threats. Using confidence against the players.
01:15:28 PHENOMEN-X AND THE PX PENUMBRA. Demonstrating how the world interprets "proof" of the Unnatural.
01:18:08 BONDS. Be Marty, not Rust. Using Bonds as Sanity Armor.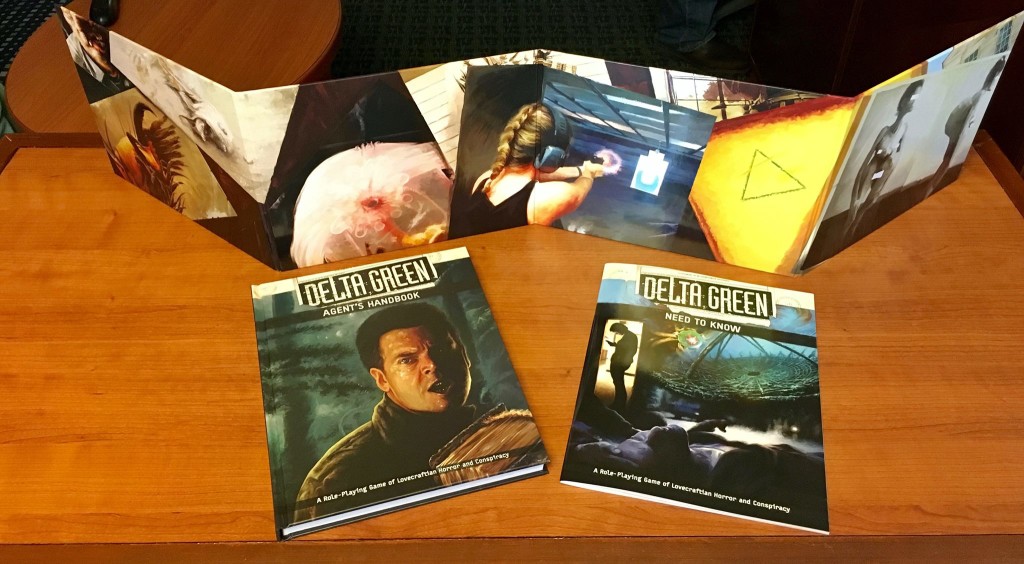 Podcast: Play in new window | Download