The new issue of The Unspeakable Oath is available now in PDF and will start shipping soon in print. Every order of the print edition comes with an instant PDF download.
The Unspeakable Oath 24 includes:
The Cult of A
Bret Kramer's examination of a disturbing modern-day cult preying mainly on young women.
The Cult of A is no less a Cthulhu Mythos cult than the Brotherhood of the Black Pharaoh or Starry Wisdom; but instead of turning its power out against the world, devotees of A direct Her dark powers against themselves.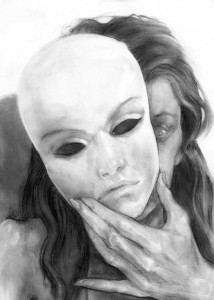 The Mardler House
A modern-day scenario by Greg Stolze about a deeply haunted home.
'True' is a word that gets tricky around the Mardler house. There's one truth inside and one without, and crossing them up is a perilous endeavor. Leaving the house, scarred by its disenjambment from normal causality, is a good way to wind up with a reputation as a hysteric, a liar, or a delusional paranoid. It's a good way to become hysterical, false, or insane. But departing is still safer than entering a place where the regular rules don't apply.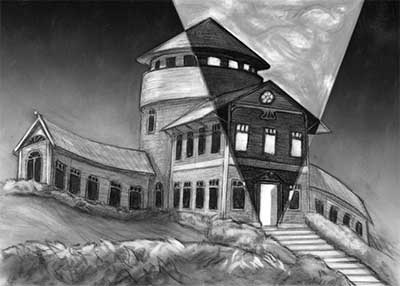 The Chosen of Eihort
A new monster by Brian Sammons.
Most who know of Eihort write off the bloated, ovoid Lord of the Labyrinth as a parasite, existing only to impregnate those unfortunate enough to cross paths with its brood. Eihort cares not for the adulation of human worshipers. It only desires the time when its countless offspring will emerge from their hiding places to claim the world for their progenitor. To ensure that outcome, Eihort desires lots and lots of offspring.
Agent Purple's Green Box Blues
A Delta Green shotgun scenario by James Haughton.
The agents of P-cell found an artifact of paranormal significance, which was believed to have been secured in a Green Box, when they infiltrated the headquarters of a gang with potential occult connections. P-cell was discovered.
Holding Cell
A Delta Green shotgun scenario by Bret Kramer.
Delta Green needs all its agents, even the broken ones—and some are more broken than most. 
Secret Shopper
A Delta Green shotgun scenario by Ed Possing.
In the U.S., the day after Thanksgiving is the first day of the Christmas shopping season. Crowds of consumers get out early to hunt for special offers. This year something is hunting the consumers.
The Black-Eyed Children
A Tale of Terror by Scott Carter.
Not all horrors are ancient. Some coalesce newborn from the stress and fears of modern life, or else take on new forms heretofore unknown.
The Hidden Passage
A Tale of Terror by Ben Riggs.
While moving boxes in the basement, an Investigator feels a draft. She follows it to a gap in the masonry of a wall. With a little light fingering a whole section of the wall pops open, revealing a secret passage!
Smuggling
A Tale of Terror by Chad Bowser.
An intermodal container with its ISO indicators scratched off washes up on a beach. Inside is a grisly scene. The twenty-by-nine by ten steel box doesn't contain consumer goods. It's filled with human skeletal remains.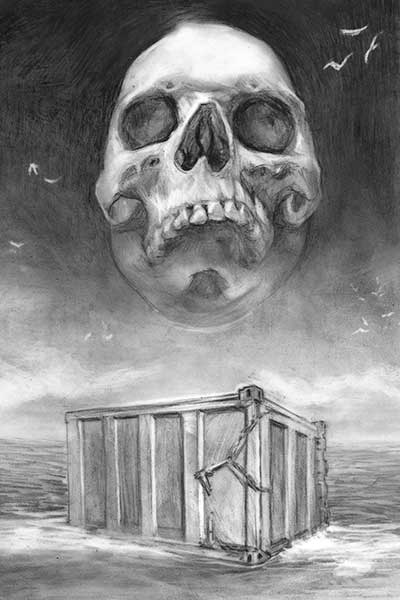 Fragments of the Simeon Bible
A Mysterious Manuscript by Ben Riggs.
In May 1297, Simeon the Recluse was accused by the Holy Inquisition of heresy and devil-worship. Unlike countless thousands of other unfortunates, the inquisitors got this one right. 
The World Needs Bad Men
A Directive from A-Cell by Adam Scott Glancy.
I've always wondered what such a campaign might look like, run from the point of view of hard-bitten police officers working to unravel a mystery that makes no rational sense. Fortunately, HBO came to my rescue in the winter of 2014 with the epic first season of True Detective. 
The Dread Page of Azathoth 
An editor's column by Shane Ivey.
Lure players with curiosities of beauty and awe beyond the reach of everyday life. Awaken their sensitivity to unknown possibilities. Then let the most dizzying and terrible revelations unfold alongside the worst gruesomeness.
The Eye of Light and Darkness
Reviews by and for Call of Cthulhu players, including:
Notes, TXTs, and a Two-Inch Article
A Message in a Bottle by Ben Riggs.
And the blood on your shirt! My God, Aaron. The whole shirt's red with it. Was the guy shot in the head? And it was still damp when I pulled it out of the hamper.
Order Now
The Unspeakable Oath 24 is edited by Shane Ivey, Daniel Harms, and John Scott Tynes, and illustrated by Ian Anastas, Matthew Hansen, and Steffon Worthington, with cover art by Todd Shearer. Order in print or in PDF.