These games and resources are now available for Cthulhu Mythos roleplaying games.
ARKHAM GAZETTE 1
A magazine about Lovecraft Country in Call of Cthulhu, edited by Bret Kramer. Issue 0 is also available.
DARK CRUSADES
A monograph (unedited by the publisher) about adventures in the Holy Lands for Cthulhu Dark Ages. Written by Derik P.S. Dunning.
CANIS MYSTERIUM
A Call of Cthulhu scenario set in 1930 Arkham. Written by Scott Haartman.
CULTISTS UNDER THE BED
A sourcebook for the Laundry RPG featuring deadly new foes.
DEAD LIGHT
A scenario for the upcoming Call of Cthulhu 7th Edition. Written by Alan Bligh.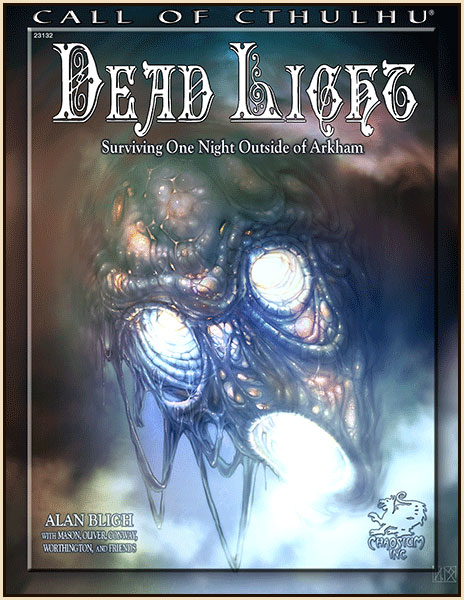 HORROR STORIES FROM THE RED ROOM
A monograph (unedited by the publisher) of Call of Cthulhu scenarios by John A. Almack, Padraic Barrett, Joseph M. Isenberg, Hugh Jesseman, Oscar Rios, Jeff Woodall, and Simon Yee.
ISLAND OF IGNORANCE: THE THIRD CTHULHU COMPANION
New resources and scenarios for Call of Cthulhu from Daniel Harms, Scott David Aniolowski, Oscar Rios, Tom Lynch, Jeff Moeller, and more.
OVER THE EDGE IN THE BUNDLE OF HOLDING
For about a week, get the seminal RPG—hugely influential on the publishers of the Oath—plus sourcebooks for a surreally low price.
SECRETS OF TIBET
A Call of Cthulhu sourcebook exploring the history, cultures, and supernatural forces at work in the Himalayas. Written by Jason Williams.