The Unspeakable Oath won the Silver Ennie Award for Best Aid or Accessory at GenCon 2013!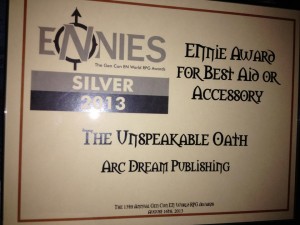 The Ennie Awards are among the biggest awards in the tabletop gaming industry. Ennie Award nominees are selected by a panel of judges, but the awards are given based on an online vote. Even the nomination is an honor — it means you've been singled out by a team of people who know games well and who are looking for the best work to recognize. As the Oath's editor I am deeply grateful for the nomination.
Actually winning is a very long shot indeed for a small-press publisher. It means your fans supported you in the voting in a big way. That's why so much of the thanks for the Oath's win goes to you, its readers. You stepped forward to recognize it in a competitive field.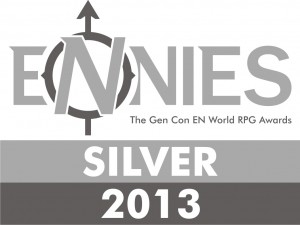 The nominees were:
That's terrific company. I contributed a tiny scrap of text to the Loremaster's Screen and Lake-Town Sourcebook, and I don't mind saying it's a wonderful accessory for The One Ring. And of course we at the Oath have been friends with Green Ronin for a long time. We celebrate their gold award for Night's Watch. 
Finally, you can see me thank the Oath's editors and designers (including Jessica Banks, who was not actually involved — I meant Jessica Hopkins) at the awards ceremony. Our segment begins at 0:07:08. If the ceremony had a spotlight you could see me holding up my beloved copy of The Unspeakable Oath 3, the issue that brought me into the fold. That was a very fine moment indeed.
Thanks again for your support.
The Unspeakable Oath 23 is printing now and will be on its way soon.