[Our review column returned in TUO4 with one negative review. — John Scott Tynes, 1994]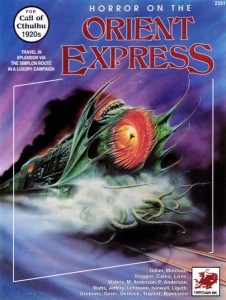 Horror on the Orient Express
A "luxury campaign" for Call of Cthulhu
Chaosium, Inc. $39.95
Review ©1991 John Tynes
Orient Express is certainly one of the most intriguing releases Chaosium has ever put out. The high price tag is the most visible facet of this. But the campaign does live up to its billing as one of luxury. The handouts, components, and material presentation are luxurious. The passports, printed on linen paper with graciously embossed seals, are possibly the high point but the posters and the 25mm train maps are excellent as well.
The plot of Orient Express is pretty strong. The investigators are called upon to gather the pieces of an ancient artifact of sublime malignance, the Sedafkar Simulacrum. The parts are scattered across Europe (conveniently located along the route of the Simplon-Orient Express, of course) and vicious opponents dog the group at every turn. A seventy-percent Investigator casualty rate is given as likely in the text.
Six booklets comprise the campaign. Altogether, they total about two hundred and sixty pages of material. The first book sets up the campaign and gives meticulous information about the Orient Express train and routes. The second, third and fourth books (totaling 180 pages) contain the scenarios themselves, ranging from London to Constantinople. Of the two remaining books, one contains all of the player handouts (excepting the special components mentioned earlier), while the other is a file of NPC's (or possibly investigators, if needed) that might be met on the train.
The presentation of all this is extraordinarily clear and attractive, both in terms of appearance and writing quality. You won't find yourself getting confused or flipping around in different books looking for some obscure reference. The background information and evocation of the variety found in 1920s Europe is first-rate all the way. All the stuff relating to the principal cult and their peculiar magic and history is also really well-conceived.
Beside all of these things, however, is the most important consideration: is it any good?
Yes. And no.
The campaign begins well enough, with a strikingly curious introduction ("Man Dies Three Times In One Night") and an interesting but unrelated side-scenario. The first "real" scenario occurs near Paris, and it is quite good. From there, things rocket downhill as the campaign goes from okay, to fair, to middling, then begins to suck. A couple of high points brighten the view; the Venice piece is everything a scenario set in Venice should be, full of mood and threat and curious happenings. Zagreb is fun, in a strange sort of way. But Milan, Trieste, and Belgrade — oh god, Belgrade — are weak at best and frustratingly bad at worst.
My biggest problem with these scenarios is that their intent is to pop the investigators into one end of a tube and pop them out the other. Generally, they have some really neat scenes and ideas, yet the execution is so limited and directed that I've found extensive improvisation to be needed, just to cover the basic points of the scenario, let alone when the players go off in any direction but the one the scenario wants them to go on.
My pet peeve with gaming scenarios is when they include text to be read aloud, especially dialogue from an NPC. You'll find several examples of this in Orient; player handouts with names like "What the Gypsy Tells You" and the like. Certainly, you can try to paraphrase them, but I found this to sound even clumsier. Why do writers insist on doing this? FASA's Shadowrun supplements are especially bad in this regard.
But…after the bad patch, when you open to the first page of the fourth and final scenario book, things change. The fourth book (about sixty pages) is just excellent. Lots of thrills and nasty stuff, some good investigative work, and a series of false climaxes that will leave players wheezing and investigators dead.
Dead? Oh yes. From all appearances, it is this fourth book where the seventy percent casualty rate comes in, because every scenario is exceptionally deadly. All the crows come home to roost, as it were, and the investigators are their pickings. Yet, it is the most consistently-good book in the set. It redeems the weak spots and the flat-out lousy ones, and really stands out as something else. Had the campaign been consolidated into a regular-size Chaosium supplement, with an emphasis on the contents of this final book, it would have been much better.
The bottom line is whether this campaign is worth $40 to you. First of all, it is really for experienced Keepers only, so if you don't feel comfortable with a lot of off-the-cuff improvisation you should steer clear.
For experienced Keepers, I really, really suggest talking to your players about it first. If they would be willing to kick in, say, $5 or $6 apiece (less than the cost of a movie nowadays) and you play the campaign through, your group will have a good time and it will fill up your gaming sessions for some time to come without making you feel like you've dumped a load of money on something that isn't completely satisfying.
Certain scenarios (and for that matter, concepts — the background material and the villains really are first-rate) in Orient Express rate seven or even eight phobias out of ten. But overall, the campaign sinks to about a five.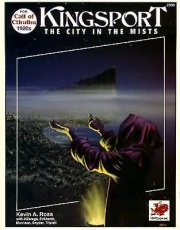 Kingsport, City in the Mists
Sourcebook and adventures in the "Lovecraft Country" series for Call of Cthulhu
Chaosium, Inc. $18.95
review ©1991 John Tynes
Chaosium's Lovecraft Country series, presenting fictitious towns from H.P. Lovecraft's stories for the CoC game, is hitting its stride. Arkham Unveiled, Return to Dunwich, and now Kingsport have all shown creativity and quality writing, as well as being true both to Lovecraft's works and to the spirit of the game (which are not always in harmony).
Kingsport is a quiet little seaside village in Massachusetts, barely a stones' throw from Arkham. It is home to numerous fishermen, and also boasts a thriving little artists' community. Tourists and visitors bring income and change, but quiet little Kingsport goes on much the same.
But when Kingsport sleeps, things happen. Kingsport, for a number of reasons, is a town on the edge of dream; dreams and reality at times merge there, taking forms wonderful and frightening. These are not the Dreamlands, as detailed in another Chaosium release some years back, but a very personal sort of unreality. Two scenarios in Orient Express took the same tack, with good results. Here the entire book is devoted to the subject, and the results are also good.
Author Kevin Ross (yes, you see him all over the place in the Oath, including this very review column) spends 57 pages describing the town itself — the harbor, the neighborhoods, the artists, the hermits — and succeeds admirably in getting across the feel of a little 1920s seashore retreat. The remainder of the 128-page book is taken up by three scenarios, all of course set in Kingsport.
The description of the town is really nice, but to some extent I guess I'd like to have seen more. Chaosium's current philosophy with sourcebooks like this is to provide more scenarios than background; the breakdown seems to be about 40% source material and 60% adventures. As a Keeper, I'd much rather see the ratio reversed — source material can be drawn upon for any number of scenarios, but an adventure is run only once. Kevin's work hits on the high points of Lovecraft's Kingsport stories, such as "The Terrible Old Man" and, especially, "The Strange High House in the Mist." And it gives a nice feel for the town itself. There is a really interesting cult lurking in Kingsport's history, one that could really have been developed a lot better for the 1920s rather than being treated, by and large, as an interesting but more or less irrelevant history lesson.
The three scenarios are a diverse lot. The first, dealing with the Strange High House (one of Lovecraft's best creations, in my opinion) has a great idea behind it and the opening is terrific. But the execution falls flat; too much is devoted to a contrived meeting with an Elder God that doesn't give the players much to do. The combat encounter is neat, but completely irrelevant, and the creature there isn't picked up on in any of the remaining scenarios or source material. The possibilities it presents with investigators slain by it are intriguing, however.
The second scenario is by far the most peculiar, and the most… Kingsportian. In it, a young poet commits suicide after reading a certain book of poetry, and soon the investigators are drawn into the same strange dream-times he was, perhaps leading to the same result. There are no monsters to kill, no villains to fight, except for each investigator's internal demons. In the hands of a skilled Keeper and cooperative players, this could be one of the most interesting scenarios ever written. Juggling reality and dream is absolutely crucial, however.
The third scenario is, as Kevin says in a related article this issue, a flat-out horror piece. There is a lot of good investigative work, and the final encounters are exceptionally deadly and frightening. This is a longish scenario, and should provide a good pay-off to players after spending time in Kingsport.
Beginning Keepers could make use of this book. For them, I'd recommend using the book initially just as a place to base investigators in while they tackled other scenarios. Eventually, as they learn more about Kingsport, the scenarios and situations in this book could be explored. Experienced Keepers should find Kingsport a delight; the Kingsport cult of old is just itching to be developed in new scenarios, though beyond that there isn't a lot of meat to the source material.
All in all, Kingsport is a fine effort, and a good addition to the Lovecraft Country series. It doesn't offer as rich an environment for scenarios asDunwich did, but it is enjoyable and has enough nuggets buried in it to spark some great ideas for role-playing. It ranks about six-and-a-half phobias. Or is that six phobias and a nervous disorder?