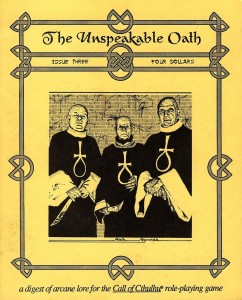 Introduction to TUO3
By John Tynes
The Dread Page of Azathoth
By John Tynes
Scream and Scream Again
By Divers Hands
A Tale of Terror: The Spider-Man
By Steve Hatherley
Mysterious Manuscripts
By Thomas Stratman, Scott Aniolowski and Brian Bevel
A Tale of Terror: Men in Black
By Gerrie Hall
The Case of Edward Mark Morrison
by Mark Morrison
You Are Cordially Invited
By Thomas Stratman
The Eye of Light and Darkness
By Les Dean and John Tynes
A Tale of Terror: The Boods
By John Tynes
Message In a Bottle
By John Tynes
Afterword
By John Tynes
[Well, that's TUO3. A solid issue all around, I think. It had a print run of 1200 copies or so I think; I can't keep the old print runs straight anymore. This time we counted all the copies before we left the printer's shop and weren't shorted a bit. The trip to Memphis to pick up the Oath became a regular event, and my parents were of great help for these trips. They even processed subscriptions for TUO5 or 6, a thankless task that I still can't believe I foisted off on my own parents! Sigh.]
Introduction to The Annotated Unspeakable Oath
©1993 John Tynes
This is a series of freely-distributable text files that presents the textual contents of early issues of THE UNSPEAKABLE OATH, the world's premiere digest for Chaosium's CALL OF CTHULHU ™ role-playing game.
Each file contains the nearly-complete text from a given issue. Anything missing is described briefly with the file, and is missing either due to copyright problems or because the information has been or will be reprinted in a commercial product.
Everything in this file is copyrighted by the original authors, and each section carries that copyright. This file may be freely distributed provided that no money is charged whatsoever for its distribution. This file may only be distributed if it is intact, whole, and unchanged. All copyright notices must be retained. Modified versions may not be distributed — the contents belong to the creators, so *please* respect their work.
Abusing my position as editor and instigator of the magazine and this project, I have taken the liberty of adding comments to some of the contents where I thought I had something interesting or historically worth preserving to say. Yeah, right!
John Tynes
editor-in-chief Pagan Publishing

Take the Unspeakable Oath
Download issue 22 now or buy it in print with instant PDF download.
Or subscribe to issues 22-25.